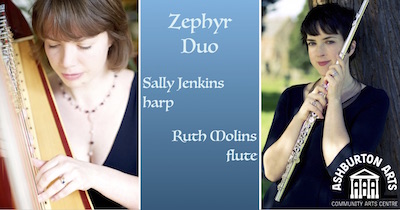 Date/Time
Saturday 2 July 2022
1:30 pm - 2:30 pm
Categories Classical
Book here now: £10 full price • £8 or £5 if you prefer. Please pay what you can.*
Featuring: Folk tunes, opera melodies, tango music, a melodic trip to a Victorian Kitchen Garden and some lyrical American Sketches
The Zephyr Duo thrills audiences, with richly textured, wonderfully varied concerts, delivered with seemingly effortless musicianship by two artists in a great partnership. This programme of Songs Without Words exploits the rich sound world of the harp and the voice-like qualities of the flute, taking inspiration from vocal traditions and opera.
Sally Jenkins and Ruth Molins first collaborated to perform Mozart's, Flute and Harp Concerto, with Exeter Symphony Orchestra in March 2015. Since then they have performed in venues and concert series across the region including Lympstone Entertainments, Powderham Castle, Classical Cafe Cullompton, Creative Innovation Centre Taunton, Seaton Music and The Devon Guild of Craftsmen.
Sally Jenkins is an experienced pedal and early triple harpist, and has also presented lecture-recitals on the history of the instrument (including to the Royal Musicological Society). Performing at numerous important venues, including the Royal Albert Hall and Birmingham Symphony Hall, her musical skills were developed by Jeanette Bevan (Royal Ballet Orchestra), Meinir Heulyn (Welsh National Opera Orchestra) and Frances Kelly (Orchestra of the Age of Enlightenment).
Ruth Molins is a founding member of Flute Cake, Marsyas Quartet, Zephyr Duo, Volo Trio and part of the collective A Quiet Night In. Devon-born, she believes in the value of high quality, professional music within the local community. She performed as a soloist with Exeter Symphony Orchestra in 2012 (Rutter, Suite Antique) and again in 2015 (Mozart, Concerto for Flute and Harp). She has been featured on Phonic FM, Soundart Radio, BBC Radio Devon and BBC Radio 3. In 2019 she curated and performed the Flute@37 concerts, a series of intimate performances given from her own music studio. During the 2020 lockdown, she gave live-streamed performances of Les Chants de Nectaire by Charles Koechlin, connecting weekly with listeners world-wide. In 2017 her composition, Make Room was performed at Waterstones, The Glorious Art House and Studio 36 in Exeter. Ruth teaches flute at Exeter School and privately. In 2021, Ruth was invited by Pearl flutes artist, Elizabeth Walker, to record a performance video with practice tips, as part of the Furstenau Challenge project.
Down by the Salley Gardens, music by Benjamin Britten, performed by Ruth and Sally: watch here on YouTube.
* See Access, Tickets & Finding Us for more about why there are three ticket prices, plus other useful info about coming to events at Ashburton Arts Centre.