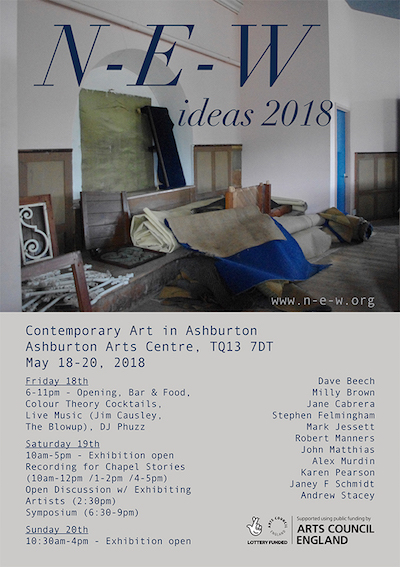 ASHBURTON'S OLD METHODIST CHAPEL INVITES A NEW CONGREGATION
Friday 18th May from 6pm: The Opening (see below)
Saturday 19th May: 10am – 5pm Open
Sunday 20th May: 10.30am – 4pm Open
Admission Free to everything
Ashburton's former Methodist Church is being transformed into a contemporary art venue for a weekend of cutting edge artworks and installations, inspired by the building and its history.
Friday 18 May, The Opening. 6pm. Live music from folk legend Jim Causley, with a special performance of Pride of the Moor: A Song to Dartmoor's Tin followed by more live music from The Blowup. There will be a 'Colour Theory Cocktail Bar', bar, food (Devon Dumplings) & DJ.
The Artists:
All the work is site specific.
Offering by Mark Jessett
An abstract, painted wall work occupying the western stairwell of the Methodist Chapel specifically made to reflect the unusual architectural properties of the space and to acknowledge the changing use of the building.
New Religions by Robert Manners
A site specific work using images of discarded tin drink cans – referencing Ashburton's historical past as a stannary town and reflecting on ideas about branding, capitalism and globalism in an old site of worship.
No Corn, No Country by Dave Beech
Photo-text Print.
Continuum by Karen Pearson
A response to how the internal spaces of the new Arts Centre are inhabited over the weekend.
Dinner, Ladies by Janey F Schmidt
'Dinner, Ladies' is a reworking of the last supper to represent women's contribution to politics and change.
Chapel Stories by John Matthias
A project that will spend up to one year recording stories from people who have spent time in and around the Methodist Chapel in Ashburton and develop these into a locational programmed app, re- triggering the stories with newly composed music and sound for visitors to hear via their mobile phone. Come and have your memories recorded from 10am – 12noon, and 2pm – 4pm.
The Fifth Plinth by Alex Murdin
A pew from the Methodist Chapel, the past support for hundreds in their gathering, will become a support structure, a plinth, for a curated program of art and objects made or found by artists and the community.
Symposium by Stephen Felmingham
Sat 19 May, 6.30 – 9pm
An open invitation to the community where guests are asked to bring food to share and to take part in a discussion to exchange ideas about what the new Methodist Chapel space could become and and what it could represent for the community. During the meal statements and ideas will be screen printed onto paper for hanging in the auditorium space.
Prayer by Jane Caberera
A large kinetic mobile suspended across the main chapel space containing prayers that 'float' in the building representing a mass of accumulative prayers that have been 'released' within the walls of this chapel over time.
Wondering and Wandering by Milly Brown
A site-specific installation that collapses the past into the present and the future.
The chapel's interior architecture, spaces and non-spaces will be used to determine forms that will sparingly populate the upper gallery of the building. The forms will be 'seated' on
pews and will be loosely suggestive of congregation members in scale and posture. These figures will be transient and evanescent; uncertain in their boundaries, obscure in their detail, hesitant in their presence.
Organ Transplant by Andrew Stacey
An 'Oldenburg-esqe' intervention that transforms one of the chapel's organ pipes into a giant colouring pencil. This intervention is partly inspired by a current ongoing debate concerning the future of the organ in the building.
N-E-W is an established artists' collective formed by five Ashburton-based artists with a track record of bringing great art festivals and ideas to the town. They have assembled a group of 11 artists. They include an Arts Professor, Researchers, SeniorLecturers and independent artists who all live in Ashburton. N-E-W is working in partnership with Ashburton Arts to draw attention to the potential of this wonderful space and to the contemporary arts scene in the town.
Robert Manners, a member of N-E-W, and curator of this weekend says: " the project is a response to the recent purchase of the Methodist Chapel by the local community. We have the opportunity to use the building and to organise an exciting array of interventions in the space. As a contemporary arts collective we want to draw attention to the incredible depth of creative talent that is part of our community — that's what we do." Andy Williamson of Ashburton Arts adds: "It's wonderful that the town's community of contemporary artists has been able to curate this weekend of visual art and installations which will really bring the building to life, and make people see its familiar rooms, spaces and furniture in a new light."
N-E-W: Robert Manners , Mark Jessett , Karen Pearson, Greg Newman & Alex Murdin