Sunday 6 May 10am – 4pm
With thanks to everyone Ashburton Festivals Association for putting together and funding this whole day with a global theme. There will be music and dance from around the world, and food and drink to make a day of it.
---
Free Performances
Outside in the courtyard, unless wet, in which case in the main Hall.
11am – Taiko Drumming – Japanese Drums
11.45am – Global Harmony – World Music and Songs raising money for Water Aid
12.15pm – Skylark – Irish and American Music
1.30pm – Muktomoncho: Bengali Singers  From Bristol
3pm – Ashburton Mardi Gras Band – Created in February, the band is reassembling. If you'd like to join on samba drums/percussion, or any wind/brass instrument, or pretty much anything that can be played on the move; and if you can read simple tunes, or pick them up quickly by ear, email andy@ashburtonarts.org.uk
---
Free Workshops and activities
All happening inside the Arts Centre.
12.15pm-1.15pm – Flamenco Dancing Workshop
Karina Gracia teaches Flamenco and Bollywood dance classes. She will be running a Flamenco workshop – the fiery and passionate foot stamping, skirt swirling dance from southern Spain.
2pm – 'Four Families' Mixed race stories from the West Country
A film by Sara Hurley and Steve Sowden.
commissioned by: PEOPLE IN HARMONY making mixed race matter
This film asked four mixed race families how they were doing? What were the positives and challenges of living in Devon? They told us everyday stories of normality and complexity, showing us that mixed race lives are far more subtle and complex than stereotypes would have us believe.  The film lasts 20 minutes. Afterwards there'll be an informal discussion with some of the people involved in making it, including Sara Hurley.  Then there may be a second screening.
11am-4pm – Ashburton Refugee Network presents: The Listening Tent
Fleeing war:  hear real-life stories of refugees from around the world, brought to life by professional storytellers. Choose your story from an interactive world map; listen with others. The stories are three minutes long.
---
Craft workshops with West Devon Arts
These workshops are free, and are fabulous opportunity to produce some beautiful crafts. Experienced art teachers Andy and Gill Cairns run the workshops to bring people and communities together through art, enriching our lives and that of our community.
11am-1pm – Family workshop – Willow and tissue hangings (below left). Join us for this workshop suitable for all, ages making a colourful hanging for your window or wall using willow and tissue.
1.30pm-4pm –  Wire and Medroc Figures Workshop.  (below right). Build a simple poseable figure from wire and flesh it out with modroc. Suitable for beginners (adults & older children).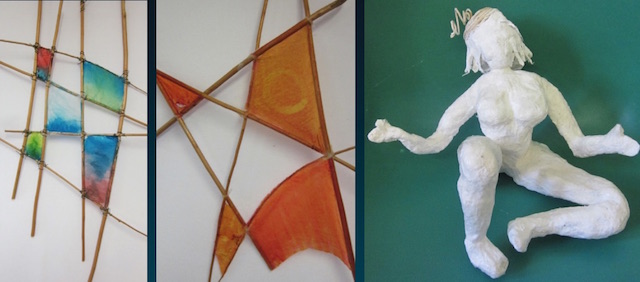 Adrinka Shields – This workshop will use willow frames and cloth canvas on which to paint Adinkra symbols and create a personal shield. The symbols are traditional to the Asante culture in Ghana, West Africa and represent beliefs or ideals together with proverbs held by Asante people. They are often seen on fabrics and pottery, on walls and woodcarvings or form part of architectural features. Happening at various times throughout the day.