Thursday 10 May 7.30pm
£10 or £8 – You choose – Buy tickets here

London, 1948 – The Ministry of Biscuits casts its sinister shadow over every tea-time and elevenses in the land. Established to "control biscuits, and to control the idea of biscuits," it prohibits decadent sweetmeats, such as the Gypsy Cream.
But when Cedric Hobson, a junior designer, falls in love and designs a biscuit to "shake confectionery to its very foundations," his world – and the ministry – are turned upside down.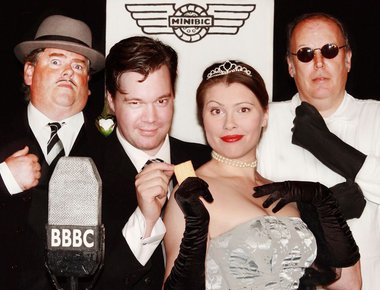 Can we stage a full professional touring musical in the Arts Centre? These guys think we can! Come along and find out.
"Absolutely hilarious…the freshest comedy in years!"

Edinburgh Evening News
The Ministry of Biscuits is a unique collaboration between the acclaimed, Carnegie-Medal-winning author, Philip Reeve, whose best-selling novel 'Mortal Engines' is currently being filmed by 'Lord of The Rings' director Peter Jackson, and the award-winning playwright and composer Brian Mitchell ('Those Magnificent Men' and 'Big Daddy Vs. Giant Haystacks'), with a filmed section by international film-maker Ben Rivers.
"What an absolutely ripping wheeze…a top-hole musical comedy without a trace of Lloyd Webber anywhere…a highly entertaining, clever show, packed with neat one liners…a festival gem."
The Stage
First performed twenty years ago to great acclaim, the Foundry Group is touring this well-loved show in a new production and we're lucky that it's stopping here on the way to Cornwall for our first taste of something theatrical in the big old chapel.
"Delightful…The songs are often genuinely funny…A great show!"
The Scotsman
The music is heavily influenced by British Light Music and the Ealing comedies of the 1940s and '50s, but with a dystopian twist.
Listen to highlights from the show on Bandcamp
"A wonderful cast….good, strong melodies…terrific fun and a very entertaining evening…."
Brighton Argus
"Wonderfully done, delightful and one of the best family shows on the fringe."
The List