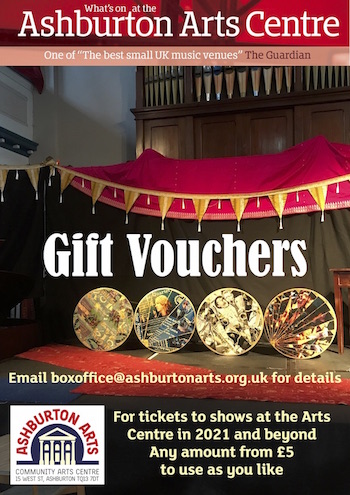 The perfect present – will bring moments of joy to the recipient in Ashburton's own little Arts Centre, bringing the best of music and other arts from around the UK and beyond to this corner of Devon. You choose the amount from £5 upwards, and the lucky person who opens it can use it to buy tickets for anything at the Arts Centre. They come in a lovely card (choice of 6) featuring pics of performers in action at the Arts Centre, taken and printed by Mark Burley of Sherewood Gallery on East St. Thanks to David at BlinkBack for putting together this little compilation of past events, featuring the Dockside Latin Orchestra, Those Magnificent Men, The Harmonic Canon and Taiko Journey.
To order, email us at boxoffice@ashburtonarts.org.uk, and we'll send payment info and the gift cards (see below) you can choose from, and post it to you, or the intended recipient with your message – or arrange a time for you to collect, right up to Christmas Eve.
Most events at the Arts Centre have a choice of low/med/high ticket prices, somewhere between £3 – £20. The voucher owner just needs to email the boxoffice when they want to buy a ticket,let us know which price, and we'll deduct that from their 'account', and let them know how much they have left for next time. They can use the voucher for themselves and their guests, and can pay part with the voucher and part with ££s as they wish.
We'd like them to use the voucher sooner rather than later, but they won't expire on any random date.
Here's a very quick pic of the six cards available. They're 15cm square, blank inside, printed on high-quality card, and come in a cream envelope. The photo continues around to the back of the card where the details of who's in the pic is also printed.
The card subjects are all photographed live in action at the Arts Centre by Mark Burley. Top row:
Tom Toomey, guitarist with The Zombies
Emma-Marie Kabanova, solo violin
Jean Toussaint, tenor sax (ex-Art Blakey's Jazz Messengers)
Bottom row:
Clive Pig, poet and storyteller
Julia Titus (Ma Bessie & her Blues Troupe)
Adrian Cox, clarinet