Friday 16th March Doors 7.30, music from 8pm
Ashburton Arts Centre West Street Ashburton TQ13 7DT
Tickets £10/£6 in advance from Church's Ironmongers, or online here, or call 07832 200980
Nominated for both Soloist of the Year and Album of the Year in the 2018 Folking awards (results not yet announced), Daria Kulesh looks like something rather special. "Bold, exotic, impressive" Daria Kulesh is a rising star and a unique character on the UK folk scene. She brings a truly extraordinary voice and strong Russian and Ingush heritage and will be telling rich stories in song combined with Jonny Dyer (widely known on the folk scene as part of the duo Vicki Swan & Jonny Dyer)'s spectacular instrumental skills and composing/arranging talent. The pair have teamed up to work on Daria's highly acclaimed new album Long Lost Home and are touring in 2017/2018 and beyond. A match made in musical heaven.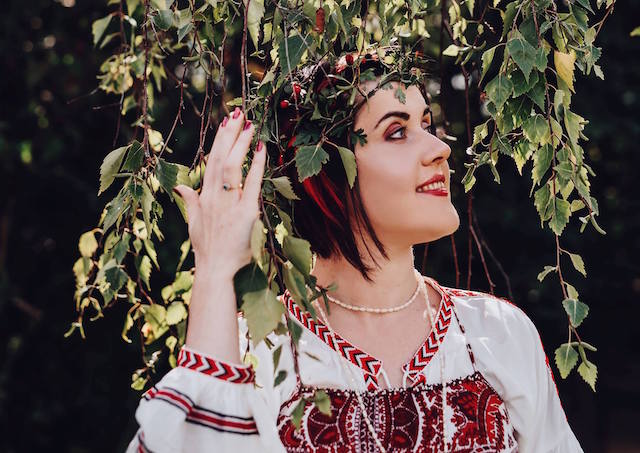 Her 2017 album Long Lost Home has won awards in the UK and in Russia, including Laurel Canyon Music's Album of the Year. It has enjoyed national radio play and incredible reviews calling it a "triumph", a "masterpiece" and "a definite contender for the best album of 2017". Mike Harding praised the The Moon and the Pilot as "one of the most beautiful new songs of the last ten years".
This evening will be opened by emerging Exeter-based singer/songwriter & guitarist Ben Morgan. Ben writes intimate & reflective songs featuring open-tuned guitar, ethereal vocals & obliquely personal lyrics that tip the hat to Nick Drake, Bert Jansch, Michael Chapman et al whilst still maintaining a unique musical style & identity.
This gig on Friday is being organised by Katie Whitehouse and is raising funds for the community Arts Centre in Ashburton. Here's some more video to get you in the mood:
Ben Morgan-Brown – No More Fooling