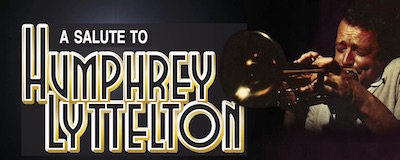 Date/Time
Thursday 2 December 2021
7:30 pm - 10:00 pm
Categories Jazz
Book Here now – Tickets £15 or £11 or £8
An ensemble of jazz musicians from the UK and USA is embarking on tour in November 2021, in celebration of the legendary trumpeter, band leader and BBC broadcaster Humphrey Lyttelton, on what would have been his 100th birthday anniversary year. Rising to prominence in the early 1950s, Lyttelton's hit single 'Bad Penny Blues' was the first ever British jazz record to achieve top 20 status, and remained there for six weeks. Its success was largely due to a very catchy boogie piano riff, which was later used by Paul McCartney as the basis for The Beatles song 'Lady Madonna'. Throughout his career, he blazed a trail with diverse presentations of jazz music and unique collaborations. In 2002, he performed (in front of 42,000) and recorded with Radiohead, engaging an entire new audience with his music and providing a rare platform for fellow jazz musicians to play on a world stage.
In addition to his influential role as leader of the jazz revival, Lyttelton, affectionately known as "Humph", was also a much loved broadcaster, hosting BBC Radio 2's 'Best Of Jazz' programme for many years, as well as BBC Radio 4's hugely successful (and still running) comedy show 'I'm Sorry, I Haven't A Clue' (currently hosted by Jack Dee).
To pay true homage to Humph's story and heritage, the 10-piece band that will celebrate his life and times will be led by the award-winning trumpeter Chris Hodgkins. Joining Hodgkins will be a cast of UK and USA jazz musicians, who will perform Humph's compositions and arrangements, as well as some brand new pieces composed especially for the tour.
A four part series on Humphrey Lyttelton, presented by Chris Hodgkins, will be broadcast on Jazz London Radio  at 8pm on Wednesdays the 3rd, 10th, 17th and 24th November.
The tour will also host a scheme, with participating venues, to "Create your Tune". The scheme is open to all ages and especially for people who have never composed a tune but would like to give it a try. Entry will be by mobile phone and the tune can be sung, whistled or played on a musical instrument. Full details arriving soon
A travelling exhibition on Humphrey Lyttelton's life and times will also accompany the tour and will consist of a media presentation and visual archive display based on Humph's writings and journals.
The 'Salute To Humphrey Lyttelton' band features:
Chris Hodgkins – trumpet
Henry Lowther – trumpet
Charlotte Glasson – baritone saxophone/clarinet
Alex Clarke – tenor saxophone/clarinet
Diane McLoughlin – alto saxophone/Soprano sax
Mark Bassey – trombone
Wayne Wilkinson – guitar
Jinjoo Yoo – piano
Alison Rayner – double bass
Buster Birch – drums
Join the band on tour for a captivating and insightful night of nostalgia and an exhilarating evening of live music.
The Salute to Humphrey Lyttelton Tour is supported by public funding from Arts Council England with help from PizzaExpressLive. National Jazz Archive, the Jazz Centre UK , Jazz London Radio and Ina Dittke and Associates