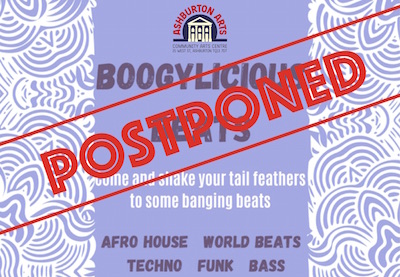 Date/Time
Saturday 21 January 2023
5:00 pm - 7:00 pm
Categories Dance
I'm sorry to announce that this Saturday's Boogylicious is postponed. Our host and DJ Charlaquinn has become unavailable. Also, a large number of people will be attending the demo nearby this Saturday afternoon protesting in support of wild camping on Dartmoor (including one of the DJs I approached to take over from Charlaquinn). So it's likely that numbers will be very low.
As soon as we have a new date, we'll put the details up here again.
Andy Williamson
Arts Director, Ashburton Arts Centre
===
Your host Charlaquin writes:
"Come and shake your tail feathers to some banging beats at Ashburton Arts Centre. Boogylicious Beats is a dance event for people to come and move, play and connect with the music.
Boogylicious Beats is based on the principles of an Ecstatic Dance. The music for the night will follow a 'wave' where the energy builds to a peak, dips down, builds to another peak and then finally landing into a softer place to end.
Introducing Charlaquin as your DJ for the night. She will take you through a musical delicacy of serene melodies to booty shaking bangers. Expect afro house, drum and bass, techno, funk, world beats, global bass, downtempo bliss and a cheeky bit of classical. She is a local woman with the aim of creating a space for everyone to let go and get down to some Boogylicious Beats!
Dressing up in whatever makes you feel fabulous and funky is highly recommended!"
Booty shakers of all ages, size and genders welcome.
* See Access, Tickets & Finding Us for more about why there are three ticket prices, plus other useful info about coming to events at Ashburton Arts Centre.