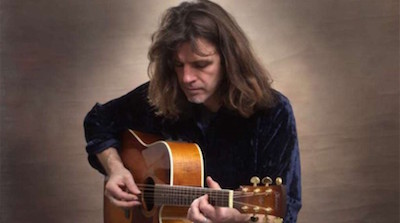 Date/Time
Monday 12 October 2020
7:30 pm - 10:00 pm
Categories Folk
Book Here Now: £13 or £10 or £8 – please pay what you can
Born in France in the early 60's, Claude Bourbon grew up in Switzerland, where he was classically trained. This finger picking guitarist has performed and studied all over the world; he has crafted a fusion of classical and jazz, with ethereal Eastern influences, Spanish and Latin elements with strains of Western folk.
His roots are in the blues, but he is inspired by music and song from all around the world, taking these sounds and weaving them into a performance of blues, rock, jazz, songs and melodies that defy a label, all delivered with a gravely voice.
Claude's inimitable style incorporates all five digits on each hand dancing independently but in unison, plucking, picking and strumming at such speed and precision that his fingers often seem to melt into a blur.
"Claude Bourbon is a unique figure today… his playing is almost indescribable" The Hook, Charlottesville, USA
"A breathtaking acoustic fusion of blues, jazz, folk, classical and Spanish guitar from a stunning guitar virtuoso…" Altadena News, Los Angeles, USA
The concert will happen according to the Covid regulations in force at the time, and the policies set by Ashburton Arts Centre. These are expected to include:
– A limited audience, seated and socially-distanced;
– Face masks to be worn whenever possible inside the venue, unless exempt;
– An at-seat service for drinks from the bar, subject to volunteers being available;
– Windows and doors will be open for good ventilation (please dress accordingly).