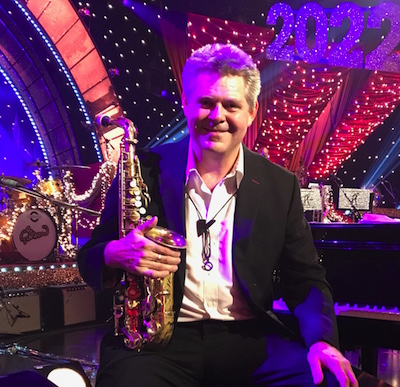 Date/Time
Saturday 5 February 2022
8:00 pm - 10:00 pm
Categories Jazz
Book here now  £14 or £10 or £7– please pay what you can – NB 8pm start
If you were watching Jools Holland seeing in the New Year on BBC2, right at the front of the band was Derek on alto sax. One of the UK's top players joining another in South West tenor sax star Martin Dale and his Quartet with:
Gavin Martin,  piano
Kevin Sanders, double bass
Dennis Harris, drums
Derek Nash
Derek's long relationship with Martin started with Be Bop star John Burch's Kentish Octet, where they performed, toured and recorded together many times.  Their swinging bravado, showmanship and humour join together for a superb evening of Jazz standards in a style that remembers great sparring Saxophone heroes like Ronnie Scott and Tubby Hayes, or Zoot Sims and Al Cohn.
Derek is a full time member of the Jools Holland Rhythm and Blues Orchestra since 2004, has led Sax Appeal for over forty years, leads his award winning Acoustic Quartet, fronts the funk/fusion band Protect the Beat, the Latin band Picante, the "Some Kinda Wonderful" show and is a member of the Ronnie Scott's Blues Explosion.
He is renowned for his energetic, vibrant, passionate and charismatic performances on all four saxophones from sonorous baritone to soaring soprano.
"…bravura display of contemporary saxophone" The Observer
"…breathtaking"  The Sunday Times
"From smooth cool to groovy funk, to ingeniously recast standards…the music fizzes with energy…***** "  The Observer
As this follows an opera performance in the afternoon, it will have a later start time than usual of 8pm, with doors and bar opening at 7.30pm.
Pandemic policies. This information will be updated as things change.
Update: April 2022
Face masks: In the Main Hall, on the ground floor, these are recommended at all times, but are optional. Anyone who sits upstairs in the balcony MUST wear a face mask – with NO exceptions (not even those who are exempt). This is to allow people who are clinically vulnerable to have a place to sit where seats are naturally separated, so: (a) to provide a place for people who want to be as distanced as possible from others, and with anyone nearby wearing a mask; (b) as virus particles when airborne are generally heavier than air, this helps to mitigate the risk of transmission from people sitting in the balcony to audience members below.
The windows and doors of the venue will be open, allowing fresh air to be constantly moving through. Although we have heating, this might mean that the ambient temperature is a little cooler than some might like, and audience members should dress accordingly.
Please, if you can, take a Lateral Flow test before coming to the Arts Centre, and if this is positive, don't come. These tests aim to pick up anyone who is infectious at the moment of testing, so please take the test as late as possible on the same day before coming to the Arts Centre. If you test positive, a refund or transfer of your ticket to another event can be arranged, if you let us know before the start of the event, by emailing boxoffice@ashburtonarts.org.uk.