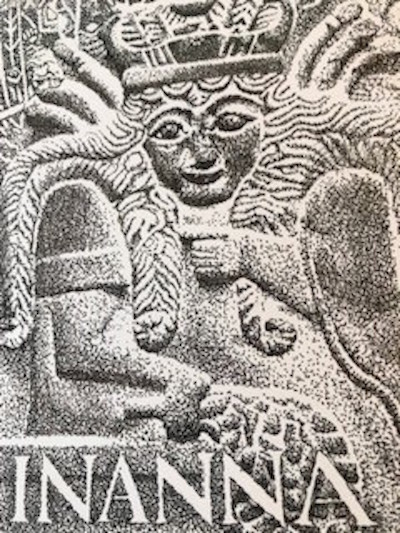 Date/Time
Friday 3 February 2023
7:30 pm - 9:30 pm
Categories Performances, shows, and events
Book here now: £12 full price • £9 or £6 if you prefer – please pay what you can*
Inanna Reimagined tells the 5000-year-old story of the Sumerian Goddess Inanna who is wrought with human desires for knowledge and for love. We see both her creative and destructive hand in the beginning and the end of all things as she comes into her power, her human regret at her rashness, and are shown the deal made in the underworld in order that winter gives birth to spring. This particular version of the story is told, in a sequence of poems by Veronica Aaronson, through the voices of the characters, animals and inanimate objects. Here her story is staged on a grand scale and in operatic sweeps, counterbalanced by down-to-earth idioms.
• Listen as the Holy Fly negotiates his way into the beer-houses;
• find out why the Royal Meat Hook is ecstatic;
• accompany Inanna as she descends to the Underworld to meet Ereshkigal, Queen of the Great Below…
"These poems are addictive; I am utterly compelled by their rollicking energy, their playfulness and chutzpah, their superb craft, and their imaginative use of dramatic monologue. Aaronson's large and unusual cast of speakers – ranging from furniture to flies – brings Inanna's story back to passionate, messy, glorious human life. Utterly original, this sequence is an unforgettable, hurtling ride, and a spectacular achievement. This really is such a fabulous sequence – marvellous in fact."  Fiona Benson (poet)
The people reading the poems in this performance are all poets themselves. They are:
Jean Grimsey (Narrator)
Susan Taylor (Inanna)
Rachael Clyne (Ershkigal)
Tim King (Dumuzi)
with Simon Williams, Jennie Osborne, Steve Day, Rosie Jackson, Hélène Demetriades, Ian Royce Chamberlain, Virginia Griem, Matthew Aaronson and Veronica Aaronson.
Musicians: Steve Day and Ric White.
* See Access, Tickets & Finding Us for more about why there are three ticket prices, plus other useful info about coming to events at Ashburton Arts Centre.