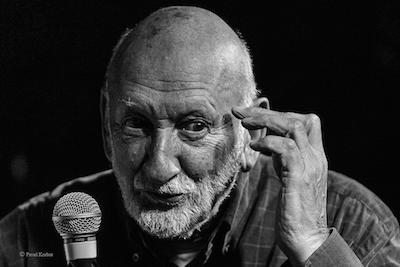 Date/Time
Saturday 3 September 2022 - Sunday 4 September 2022
11:00 am - 10:30 pm
Categories Dance
A mini-festival tribute weekend to Leo Feigin, emigré from Soviet Russia in the 1970s who broadcast jazz via the BBC World Service into Russia and the Eastern bloc, and brought the music of many great musicians (with an emphasis on the avant garde) from behind the Iron Curtain to the attention of the world, releasing 1000 albums along the way on Leo Records. The label has also released music by some of the finest free-improvising musicians in the UK who'll be appearing here in concert, and leading workshops involving improvised music and dance.
More information about Leo Feigin and Leo Records here
Book here now  for the evening concerts on Saturday 3rd and Sunday 4th September.
Sat 3 Sept at 11am: Free improv music and dance Worshop – ALL WELCOME. £15 / £10 / £5 – please pay what you can.
Sun 4 Sept at 11am: Music and Dance free improv workshop/masterclass – Invited Participants.
All welcome to watch, and for the performance at 3pm – for which admission is free (donations welcome).
For more about these and to book, please email boxoffice@ashburtonarts.org.uk
Sat 3 Sept, 7.30pm: Eternal Triangle, and Hume & May (see below)
Sun 4 Sept, 7.30pm: Fourth Page, followed by a finale performance, featuring various performers from the weekend.
Sat 3 Sept at 7.30pm: Eternal Triangle
Trevor Watts : Alto & Soprano Saxophones/Composer
Veryan Weston : Piano & Synth
Jamie Harris : Congas & Percussion
Eternal Triangle plays the music of Trevor Watts: compositions originally inspired by rhythmic structures from Africa and South America as well as jazz and European musical forms.
The trio is built on two duos: Veryan and Trevor first played together in Trevor's "Moiré Music" in the early 1980s and since then have had a long collaboration in the 'Dialogues' project where their work as open improvisers was explored together for many years worldwide. The second duo consists of Jamie and Trevor where Jamie was involved in Trevor's 'Celebration Band' in the 2000s and later in a very successful duo touring worldwide and recording several CDs. The third duo with Veryan and Jamie is yet to be explored!
In July 2021 the three musicians began working together on some beautiful new pieces specifically conceived by Trevor. The development of these compositions, for instance, can happen during rehearsals or during a concert. Any player in the group can discover something new within each piece, and therefore the compositions are ever changing. The strengths of this trio are like the durable and inert strength of a triangle, where each side supports the other – 'Eternal Triangle'. This is a music with a depth that is both expansive and honest.
Some of the music of Trevor Watts can be heard here: soundcloud.com/user-615692829
Hume and May
Paul May (drums) and Carolyn Hume (piano, keys) have been playing and recording together for over 20 years. They have released 6 critically-acclaimed albums on Leo Records (a world-famous specialist record label based in Kingskerswell!) and have a new duo album ready for release in early 2021.
Hume and May are a piano/keys and drums duo. Their music moves from minimalist romanticism to unsettling and remote landscapes.
"…the pianist Hume and the drummer May create a beguiling soundscape whose delicate shifts of mood and texture are simple but extraordinarily effective. …"
Phil Johnson, The Independent
"intriguing and often haunting"
Andy Hamilton, Jazz Review
Sunday 4 September: 4th Page
Charlie Beresford: vocal/guitar
Carolyn Hume: piano
Sonia Hammond: cello
Paul May: Percussion
4th Page's music is improvised. Some of it sounds like it wasn't. Fragments of jazz, trace elements of the more experimental side of English folk and even Krautrock surface in a quietly intense music that floats effortlessly between dark, stretched song forms and impressionist abstraction. More at 4thpage.com. Listen to their music at fourthpage.bandcamp.com.
Live on stage at Colston Hall during the Jazz South Showcase at the Bristol Jazz Festival: