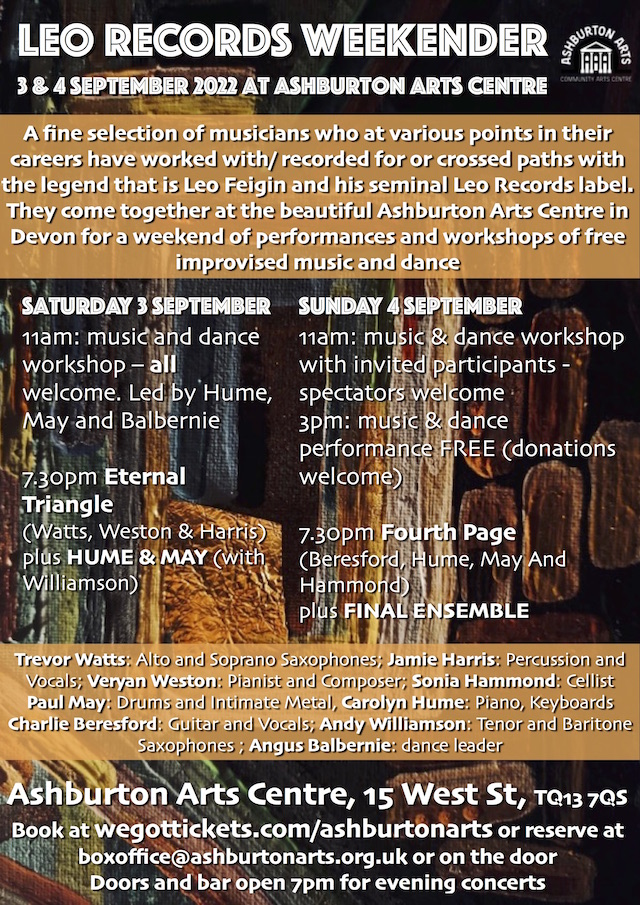 This page gives general info about the weekend and more background about Leo Records and Leo Feigin, the man behind it all. Go here, for detailed info about the workshops, and concerts on each day. (If you don't find what you're looking for here, please email boxoffice@ashburtonarts.org.uk and we'll answer any questions).
On 3 & 4 September 2022 in Devon, Ashburton Arts Centre will host a Leo Records live event, to celebrate and honour the great Leo Feigin, a true and living legend in the promotion and visibility of avant garde musicians and their music worldwide. See below for more about Leo and the label.
Now, in his 84th year, and having called Devon his home for 25 years, it seemed an overdue show of appreciation was fitting and that this time had arrived. It has arrived.
On Saturday and Sunday, afternoon and evening, the 'Leo Records Weekender' will unfold, featuring artists who have appeared on Leo Records since it's creation 43 years ago, these musicians will come together to perform for Leo himself.
Leo Records: Music for the Inquiring Mind and the Passionate Heart.
"The origin of the musician is not important. 
What is important is originality of the music and this is for me the only criterion."  
Leo Feigin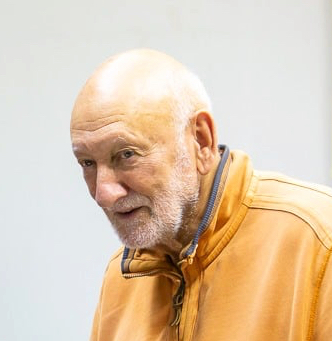 Leo Records is an avant-garde jazz label, created in 1979 here in the UK and run by Leo Feigin, who in his 84th year is still releasing new music every month.
Leo has a fascinating history. Born in Leningrad in 1938, he gained an early love for jazz. While not a musician, he was engaged in presenting some of the early jazz concerts in the Soviet Union. He, like millions of others behind the Iron Curtain, learned about jazz by listening to Willis Conover's Voice of America jazz programs. Leo said,"He was like a saint to us."
He met Willis in 1969 after a jazz festival in Tallinn, Estonia. In Leo's apartment in Leningrad, Willis was gathered with several jazz people who were complaining about their situation in Russia. Leo recalled, "Willis blew us away with his comment, 'Why don't you do something about it?'"
Feigin left for Israel in 1974. There, he read an ad for the BBC and applied for a job as a Russian translator and broadcaster, he was successful, and after a trial period he moved to London and was soon given the opportunity to present a jazz programme. For more than 25 years he presented a weekly jazz show under his radio name Alexei Leonidov, as well as daily news stories.
In 1979, he formed Leo Records, mostly to promote Russian "free jazz" artists such as Vyacheslav Ganelin, Vladimir Tarasov, Sergey Kuryokhin and Vladimir Chekasin.
During Leo's first decade, Feigin released dazzling sounds from more Soviet artists like Valentina Pomomareva and Sainkho Namtchylak. And in 1989 came the monumental 10-disc set Documentary: New Music From Russia, showcasing a wildly divergent array of work, much of it produced illicitly amid Soviet suppression. The series was aired on Channel 4. Since then he has put out hundreds of releases, from the likes of Sun Ra and Cecil Taylor to as the Russia-based Ganelin Trio
and Sergei Kuryokhin.
Feigin's label works on the principle, antithetical to major label thinking, that there should be a personal relationship between a label and its roster and it should not be exclusive. "I do not produce music or LPs or CDs for musicians whom I don't know personally. Every CD, or almost every CD is a continuation of friendship," he says. "I am against all contracts, and I am against signing people…if a musician has a chance to record and to produce his music with someone else, he should do it."
These beliefs have kept him in good stead with the numerous musicians who have been featured on the label, a veritable shopping list of the avant-garde of the last 43 years, and whilst other imprints dedicated to the avant-garde have come and gone, Feigin's has soldiered on.
His catalogue is flush with recordings of major figures like Anthony Braxton, Cecil Taylor, Sun Ra, Evan Parker, Alexey Kruglov, Marilyn Crispell and many, many more.
This year (2022) Leo Records celebrates its 43rd year. On 3 and 4 September, some of the British artists on Leo will perform at Ashburton Arts Centre, south Devon, near Leo's home, to pay homage to the legend and his label.