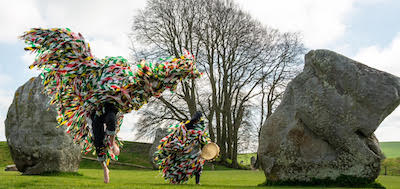 Date/Time
Saturday 17 July 2021
7:30 pm - 10:00 pm
Categories Music
Book here now – £13 or £10 or £6 (you choose)
Lunatraktors are choreographer and percussionist Carli Jefferson, and nonbinary vocalist and composer Clair Le Couteur. Influenced by flamenco, post-punk and trip hop, their' 'broken folk' sound strips trad folk back to rhythm and voice. The pair turned heads in 2019 when their DIY debut This Is Broken Folk – recorded live in a viaduct arch by Ramsgate harbour – made it onto MOJO Magazine's Top Ten Folk Albums. New releases blend analogue synth, whistles, accordion with tuned drums, vocal harmonies and a hybrid of tap dance and body percussion, which Jefferson developed after touring with Stomp.
Reimagining British folk through a shared teenage absorption in dance music and art rock, Lunatraktors have built up a passionate fanbase through performances at festivals, art galleries, museums, theatres and queer cabarets. Jefferson's compulsion to dance while drumming prompted Lunatraktors to put together a tonal percussion kit, providing both rhythmic and melodic elements to their sound. A double act in the old fashioned sense, Le Couteur's channeling voices of multiple tragi-comic characters matches Jefferson's hyper-expressive performance style.
Listen to Luntraktors here on Bandcamp
.
Seren the Heron
Seren (they/them) is a singer-songwriter who turns contemporary debates and long known lessons into musical stories. Their debut album Scrambled Mess (2015) was inspired by their upbringing in South Wales and the landscape and the people that live there. Today they are returning to music after a few years break, during which they have come out as trans and developed their craft and identity as an artist. Their songs reflect what it means to belong, to be different, to be loved, to lose, and to fight for what's important.
Doors and bar open at 7pm. Music starts 7.30pm
Pandemic policies. This information will be updated as things change.
Update: April 2022
Face masks: In the Main Hall, on the ground floor, these are recommended at all times, but are optional. Anyone who sits upstairs in the balcony MUST wear a face mask – with NO exceptions (not even those who are exempt). This is to allow people who are clinically vulnerable to have a place to sit where seats are naturally separated, so: (a) to provide a place for people who want to be as distanced as possible from others, and with anyone nearby wearing a mask; (b) as virus particles when airborne are generally heavier than air, this helps to mitigate the risk of transmission from people sitting in the balcony to audience members below.
The windows and doors of the venue will be open, allowing fresh air to be constantly moving through. Although we have heating, this might mean that the ambient temperature is a little cooler than some might like, and audience members should dress accordingly.
Please, if you can, take a Lateral Flow test before coming to the Arts Centre, and if this is positive, don't come. These tests aim to pick up anyone who is infectious at the moment of testing, so please take the test as late as possible on the same day before coming to the Arts Centre. If you test positive, a refund or transfer of your ticket to another event can be arranged, if you let us know before the start of the event, by emailing boxoffice@ashburtonarts.org.uk.