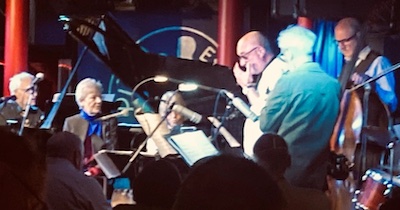 Date/Time
Saturday 25 November 2023
7:30 pm - 10:00 pm
Categories Jazz
Book here now: £16 full price • £12 or £8 if you prefer – please pay what you can*
Mike Westbrook leads this new, seven piece band, and this is it's second public appearance after a debut in London's Pizza Express in September. Below is a review of that performance, which also gives a good account of Mike's history as one of the UK's iconic musicians of the 20th and 21st centuries. More about the band here on Mike's own site.

Written by Richard Williams on his blog, The Blue Moment,  the original post is here, the text copied below:
"You might have noticed, Mike Westbrook said as the second of today's two lunchtime sets at the Pizza Express drew to a close, that a lot of this music we've been playing has something to do with the blues. And then he quoted Duke Ellington: "When times get tough, I write another blues." That, Westbrook said, is what he found himself doing rather a lot these days. And then he and the new septet he calls his Band of Bands played "Gas, Dust, Stone", which he described as "a blues for the planet".
Its slowly wandering theme, first sung by Kate Westbrook and then voiced for the alto saxophones of Chris Biscoe and Pete Whyman and the accordion of Karen Street, reminded me at times of Ellington's world-weary "4:30 Blues" before the mood switched, charging into the 12/8 of Charles Mingus's "Wednesday Night Prayer Meeting", powered by Marcus Vergette's bass and Coach York's drums, with a beautiful Street solo.
Westbrook, who is 87, formed his first band in Plymouth in 1958, and the Band of Bands celebrates longevity. Mike and Kate have been working, writing and performing together for 50 years. Biscoe first joined them 40 years ago, to create the Westbrook Trio. Street and Whyman have been with them on various projects for 30 years. Vergette and York, the newcomers, were called to the colours a mere 20 years ago, and are now the heartbeat of the Uncommon Orchestra.
The septet is both an expansion of the trio and a reduction of the big band, capable of handling everything from the fast bebop of the opening "Glad Day", one of Westbrook's pieces inspired by William Blake, through a brilliantly recast version of Billy Strayhorn's "Johnny Come Lately" to the slow-rolling gospel cadences of "Blues for Terenzi" and the open spaces of "Unsigned Panorama", with marvellous unaccompanied solos by Whyman (on clarinet) and Street.
Several songs from Fine 'n' Yellow, their 2010 song cycle, made an impression. Throughout "Yellow Dog", York maintained a pulse (on his beautifully clear Murat Diril ride cymbal) three times that of the rest of the band, allowing Biscoe to float in his typically expressive solo between the drummer's tempo, the much slower one being paced by Vergette, and the unstated one in between. "My Lover's Coat", finely sung, seemed to have "Blue Monk" in its bones.
If there were frequent reminders of how thoroughly Westbrook has metabolised his love of Ellington, Mingus and Monk, there was also evidence of a new enthusiasm for the songs of Frederick Hollander, a German composer of film music. Born Friedrich Hollaender in London in 1896 and brought up in Berlin, he wrote for Max Reinhardt's theatre productions, accompanied artists in the Weimar-era cabarets, and wrote the music for Josef von Sternberg's The Blue Angel, including "Falling in Love Again", delivered by the film's star, Marlene Dietrich. Leaving Germany when the Nazis took power, he arrived in Hollywood in 1934, anglicised his name, and had written for more than 100 films before his return to Germany in 1956, where he died in 1976.
One of those Hollywood films was A Foreign Affair, a 1948 comedy-drama set in post-war Berlin, directed by Billy Wilder and again starring Dietrich. Kate Westbrook delivered two of Hollander's songs from that film, both concerned with the perils of emotional and sexual transactions: the sardonic "Black Market", a Weill-esque piece on which she departed from the text to display her command of vocal effects, and "Illusions", a gorgeous ballad on which she was exquisitely supported by Street and Biscoe.
Pointing out to the audience that this was the first public appearance of the Band of Bands, Westbrook expressed the hope that there would many more. An album devoted to the music of Frederick Hollander might not be such a bad next step."
Here at Ashburton Arts Centre, we're delighted to help this band on its way to "many more" performances.
* See Access, Tickets & Finding Us for more about why there are three ticket prices, plus other useful info about coming to events at Ashburton Arts Centre.