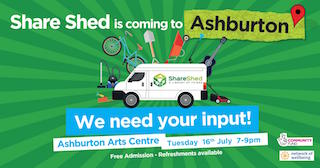 Date/Time
Tuesday 16 July 2019
7:00 pm - 9:00 pm
Categories Community Event
Admission Free
Why buy when you can borrow?
The Share Shed is a library of things currently in Totnes, and we are about to create a mobile version, which will extend its service to Ashburton and other towns.
With over 300 everyday/useful items available for people to borrow at a low cost, this project has helped many people to get things done, whilst saving money and resources.
Among its most popular items, you can find carpet cleaners, strimmers, pressure washers, tents, lawnmowers, projector, sewing machine, power drills and many more.
You're invited to join a community engagement gathering to hear more about this exciting project, learn how to get involved with the co-creation of the world's first mobile library of things, and share your views – and skills.
For more information, visit: www.shareshed.org.uk
Contact: info@shareshed.org.uk
Mobile Share Shed Is Coming To Ashburton – Community Engagement Gathering
When: Tue 16th July 7pm to 9pm
Where: Ashburton Arts Centre
Entrance: Free. Refreshments available. Family-friendly.