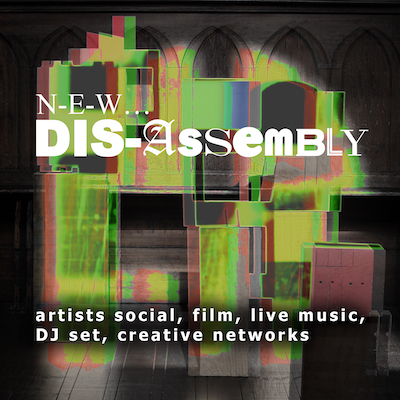 Date/Time
Friday 1 December 2023
7:30 pm - 11:30 pm
Categories Community Event
Book here now: a £tenner a £fiver or £free – please pay what you can*
N-E-W** is a group of contemporary visual artists based in and around Ashburton. They're hosting this second night of art, music, chat and socialisng here at the Arts Centre. Last year it was very busy – advance booking recommended. Here's their invitation:
"Calling all artists and creatives to assemble for a N-E-W party – our free social and networking evening for 2023 at Ashburton Arts Centre. This is a chance to meet other artists, groups, musicians, writers, poets, designers, filmmakers and more to share ideas, swap tips or just say hello.
· Premiere of Assemblage – a short documentary film by Matt Ryder of recent collaborative, inter-generational project ASSEMBLY
· Live music collaboration This Ain't Jazz ft Andy Stacey
· Everyone is invited to bring a poster for the Walls of Wonder to share with others what they are up to – a project, a drawing, a text, leaflets, a poster, card – simply bring it on the night.
· DJ set till late.
N-E-W is a non-profit making artist collective which relies on donations to operate, please give what you can afford. Donations are shared with Ashburton Arts Centre.
Booking essential: Suggested donation £10 / £5 / or book a free ticket if you need it – we want you here with us."
* See Access, Tickets & Finding Us for more about why there are three ticket prices, plus other useful info about coming to events at Ashburton Arts Centre.
** * The letters stand for North, East and West. If you live in Ashburton (or look at a street map of the town) you'll know why.