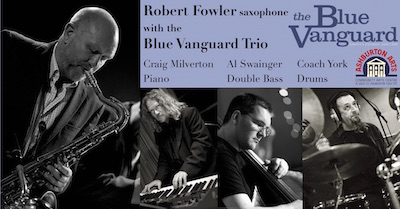 Date/Time
Wednesday 26 January 2022
7:30 pm - 10:00 pm
Categories Jazz
Book here now  £14 or £10 or £7 – please pay what you can
This is the first concert in our partnership with Exeter's Blue Vanguard club. Every month, their visiting soloist will be coming here as well, usually on a Wednesday night. There are some great gigs in store here – look out for the full line up, to be announced soon, or see 
bluevanguard.co.uk.
Robert Fowler is a rarity amongst the younger generation of British players in that he honed his instrumental skills in very much the same way, as a member for ten years of The Pasadena Roof Orchestra. This band is recognised as probably the leading exponent of dance band era music, having toured the world, recorded 19 albums and appeared on television and radio numerous times in Britain and Europe.
Robert followed his time with the PRO with stints with Chris Dean's Syd Lawrence Orchestra (re-creating the music of Glenn Miller), appearances with the BBC Big Band and Humphrey Lyttelton's band, and two years touring with Bryan Ferry's Roxy Music. Having well and truly paid his dues, Robert is now pursuing a solo career, although he continues his various assignments under other band leaders too.
The first thing anyone notices about his tenor saxophone playing is the tone. It's broad, warm and juicy, a perfect fit for his calm, measured phrasing." Dave Gelly, The Observer
Pandemic policies. This information will be updated as things change.
Update: April 2022
Face masks: In the Main Hall, on the ground floor, these are recommended at all times, but are optional. Anyone who sits upstairs in the balcony MUST wear a face mask – with NO exceptions (not even those who are exempt). This is to allow people who are clinically vulnerable to have a place to sit where seats are naturally separated, so: (a) to provide a place for people who want to be as distanced as possible from others, and with anyone nearby wearing a mask; (b) as virus particles when airborne are generally heavier than air, this helps to mitigate the risk of transmission from people sitting in the balcony to audience members below.
The windows and doors of the venue will be open, allowing fresh air to be constantly moving through. Although we have heating, this might mean that the ambient temperature is a little cooler than some might like, and audience members should dress accordingly.
Please, if you can, take a Lateral Flow test before coming to the Arts Centre, and if this is positive, don't come. These tests aim to pick up anyone who is infectious at the moment of testing, so please take the test as late as possible on the same day before coming to the Arts Centre. If you test positive, a refund or transfer of your ticket to another event can be arranged, if you let us know before the start of the event, by emailing boxoffice@ashburtonarts.org.uk.