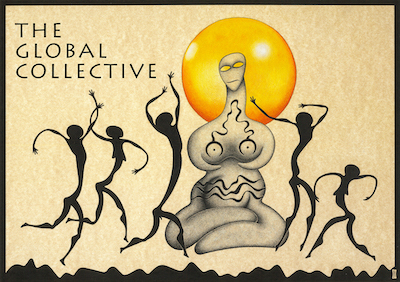 Date/Time
Sunday 18 June 2023
7:30 pm - 10:00 pm
Categories Music
Book here now: £15 full price • £10 or £7 if you prefer – please pay what you can*
The Global Collective is a new branch of the Global vintage dance music family.
The band Global was formed in 1992 and quickly became a festival favourite with its combination of powerful dance music and live instruments. They performed uplifting sets of shamanic trance techno at Glastonbury Festival, WOMAD and with Cirque Du Soleil.
This new project, The Global Collective, continues the energy and tradition of Global's wild trance dance carried into a reimagined acoustic world music mix.
The line up includes:
Nigel Shaw (synths, percussion and flutes); Dartmoor musician, composer and founder member of Global, Nigel is well known for his solo flute concerts and with his work with Carolyn Hillyer. The other side of his work is in electronic music both ambient and rhythmic. He has been working with the Global music project for 30 years.
Bethan Lloyd (vocal and lyrics); Welsh artist whose trance inducing vocals expand over an ocean of rave inspired production, harmonic layering and otherworldly ecstasy. Her sonic exploration has taken her from training as a classical singer, immersing herself in Berlin's experimental music scene, to learning with shamans, masters and the ancient teachings of the natural world.
Isaac Ray (synths and drum machines); master of noise, Isaac's sonic exploration has been immersed in Berlin's experimental music scene. An innovator of gritty experimental pop.
Jodie White (drums and percussion); A drummer for thirty years, Jody spent time playing with several different bands in Brighton, and more recently around the Welsh borders where he now lives. With a preference for unique sounds and electronic-influenced beats, he weaves magic and texture into his rhythms.
Ric Hollingbery (violin); A classically trained musician, Ric's music has ventures into a rich mixture of musical styles. He played violin with Emmy the Great and is now one-third of Folk-Punk band '321', leads the 'Sorbet Choir' in Dartington, is studying art in Totnes. He lives in Berry Pomeroy.
This is The Global Collective's first gig together before they head off to Glastonbury Festival. They will debut new music as well a some old Global favourites. Bring your dance feet!
===
Pre-Human is a ritualistic gathering of Isaac Ray and Bethan Lloyd's evolving musical disciplines. Dense occult-tinged vocal layers intersect chopped up hardware noise and overdriven bass lines with a cascade of sampled drummers and distorted drum machines. Their sound developed during an intense writing period in the Welsh mountains, where many of their current songs were birthed through ritual and sonic immersion. They are known for their distinctive sound, which blends elements of experimental pop, avant rock, noise, rave, hip-hop, and electro-punk with the duo's unmistakable vocal synergy. They have self-released one EP, Alternate Your Dog, in May 2020.
* See Access, Tickets & Finding Us for more about why there are three ticket prices, plus other useful info about coming to events at Ashburton Arts Centre.