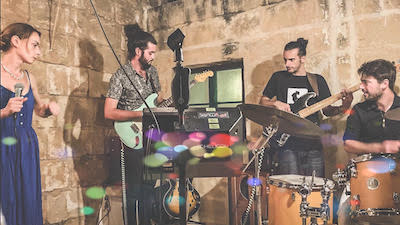 Date/Time
Wednesday 13 November 2019
7:30 pm - 10:00 pm
Categories Jazz
£13 or £10 or £6 – you choose Book now
Trying to describe the Maltese band "The Ranch" isn't easy. The music moves from prog-rock to jazz improvisation, from beautifully-sung ballads to vocalises in odd time signatures, from dance numbers to folk-inspired melodies, while the whole is served with an infectious energy and surreal humour. One thing is certain: to witness one of their performances is a real pleasure no matter your age or musical taste.  Here's what they write about themselves:
"Get ready for a thrilling ride of musical extremities – from the subtle, to the absolutely insane. Brimming with experimentation, improvisation and attitude, The Ranch delivers a intensely energised performance leaving audiences literally mind blown." Check out the live video below – and don't judge it from the first few seconds!
The Ranch's musical recipe is a concoction of:
A full tank of energy
1/4 Jazz
Drizzle of improvisation
1/4 Prog/rock
mix in some punk attitude,
Then add:
Dash of spontaneity caramelised with –
a sprinkle of insanity
thought provoking and skilled musicianship and topped with good vibes only.
Leave to settle in a mood of funky and groovy. Then lightly dust with enthusiasm and serve with a smile!"
F: https://www.facebook.com/ranchtheranch/
S: https://open.spotify.com/artist/6I2T8jJCooZCyeEdA0WT6z
Y: https://www.youtube.com/channel/UCo4kDQSAV8YO6Ns8HeAZ6vA
I: https://www.instagram.com/ranchtheranch/
Door and bar open at 7pm
Music starts around 7.30pm