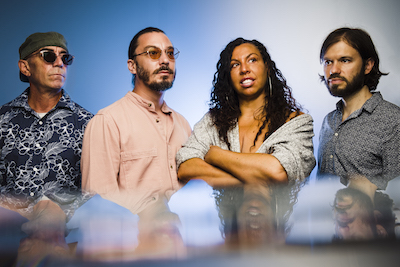 Date/Time
Wednesday 26 April 2023
7:30 pm - 10:00 pm
Categories Classical
Book here now: £15 full price • £10 or £7 if you prefer – please pay what you can*
"Eclectic, eccentric, unobtrusively erudite" The Guardian
"Demonstrating that originality doesn't have to be complicated" **** The Observer
From reviews of The W's debut EP
The W is Bruno Heinen's new London-based contemporary jazz group. Like the four equal lines that make up the letter W, the four members of the group come together as one voice in performance. The band features Heidi Vogel (Cinematic Orchestra) on wordless vocals, Andrea Di Biase (Kenny Wheeler) on double bass, Gene Calderazzo (Pharaoh Sanders) on drums and Bruno Heinen on piano.
They are a band in the true sense of the word. They meet regularly, learning the music by heart and shaping Bruno's compositions together. The compositions themselves have a story to tell; each one based on a single idea/concept and written with melody and groove at the forefront. Bruno, Andrea and Gene have been working together for many years. The addition of Heidi Vogel brings another layer of depth and lyricism to the music.
"I've been working with Heidi in her own groups for over 10 years. I've always wanted to include her in a project of my own. From the first time she sang with us, it just felt right. Her soul and range are extraordinary, especially without words. I can write as if I were composing for trombone, trumpet, or operatic soprano." Bruno Heinen
Bruno Heinen, piano
Bruno is a London-based contemporary improvising pianist, composer, and educator. He is professor of jazz piano and composition at Trinity Laban and has released eight albums under his own name to date.
Bruno has worked with artists such as Shabaka Hutchings, Eska, Denys Baptiste and Julian Arguelles amongst others.
Bruno has performed in venues and festivals worldwide and has recently collaborated with the London Symphony Orchestra and Sir Simon Rattle, for two recorded performances of Bernstein's Wonderful Town at the Barbican Centre.
Heidi Vogel, wordless vocals
Heidi Vogel made her professional debut touring with Cirque du Soleil. She then joined The Cinematic Orchestra as lead vocalist and has toured with the group for over 5 years.
By 2007, Vogel had toured extensively worldwide and ended the year with a sold-out concert at The Royal Albert Hall. Festival appearances include: The Big Chill UK, North Sea Jazz, Coachella, Gilles Peterson Worldwide and Blue Note Jazz Festival.
Andrea Di Biase, bass
Italian double bass player and composer Andrea Di Biase has worked with Dave Liebman, Julian Arguelles, Stan Sultzman, Antonio Zambrini and Norma Winstone.
Together with pianist Liam Noble, Andrea played in the last trio of the legendary British trumpeter Kenny Wheeler.
Festival appearances include: The London Jazz Festival and The Hague Jazz Festival. He is a prolific composer and his own group, Dugong, have toured extensively, including as appearance at Ashburton Arts Centre in 2018.
Gene Calderazzo, drums
Currently residing in the UK, New Yorker Gene Calderazzo has established himself as one of the busiest drummers on the international jazz scene. Notable collaborations include Pharoah Sanders, Steve Lacy, Steve Grossman, Eddie Henderson, The NDR, Bheki Mseleku, Sting, Radiohead, James Moody, Benny Golson, Wayne Krantz and Eddie Gomez.
==
This is part of the Tinners Moon Festival 2023. See ashburtonarts.org.uk/tinnersmoon2023 for more about all of the events. All tickets at wegottickets.com/tinnersmoon2023
Doors and bar open at 7pm
* We usually have three ticket prices – please pay what you can. If you can pay the full price, that's great. If choosing a cheaper ticket allows you to come to more things, then please do! Ticket receipts are split between the artists (it's usually their livelihood!) and the arts centre (keeps the place going). Except on the rare occasions when we have a sellout gig on our hands, it's always better to have someone here in the audience than an empty seat, so genuinely, please pay whatever you can.
See Access, Tickets & Finding Us for more about why there are three ticket prices, plus other useful info about coming to events at Ashburton Arts Centre: getting here, parking, loos, PA tickets, etc.