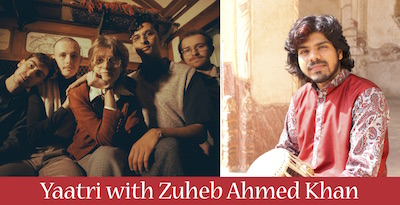 Date/Time
Monday 22 May 2023
7:30 pm - 10:00 pm
Categories Jazz
Book here now: £15 full price • £10 or £7 if you prefer – please pay what you can*
This looks like being a fascinating gig.
Here's what the band has to say about themselves:
Yaatri Bio:
Influenced by the momentum of the rhythms of India, immersive timbres of electronic music, and energy of rock'n'roll, Leeds-based quintet Yaatri's blend of complex composition and ethereal soundscapes captivates the heart as well as the mind.
Raised in ten countries around the world by Indian / American parents, Yaatri was born of a desire to explore guitarist Liam Narain DeTar's cultural identity with an emphasis on his South Asian heritage.
Combining the multicultural sounds of DeTar's upbringing with psychedelic soundscapes, intricate arrangements and musicianship beyond their years, Yaatri's music has been described by fans as emotionally transportive and capable of taking listeners to a higher spiritual place. Driven by lyrical melodies and propulsive grooves, the five piece is compelled by the desire to push the boundaries of modern songwriting.
The quintet has rapidly gained a reputation for being among the most forward-thinking and unique creative forces in the North of England, receiving praise from BBC Radio 1, BBC Radio 6, Jamie Cullum, Rolling Stone Magazine India, Jamz Supernova's Selector Radio, Jazz FM (plays, interviews, playlist), British Airways, and more.
Their debut EP 'Reach' and first album 'Lucid' have accumulated over 150k streams on Spotify alone, securing places on Spotify and Apple Music editorial playlists, with over 200 vinyl records sold to fans as far afield as Australia, Japan and The United States.
Yaatri has performed alongside some of the leading names in contemporary British jazz-influenced music, including Noya Rao, Richard Spaven, Jasmine Myra, Cykada and Myele Manzanza. Their self booked, 16 date album release tour included a packed house at the legendary jazz club Pizza Express in Soho, a sold out show at the 400 capacity Tung Auditorium in Liverpool, a showcase performance at Southbank Centre during EFG's London Jazz Festival, and a standing ovation at their album launch show at the Brudenell Social Club in Leeds, which was dubbed by promoter DJ Lubi as one of the best received gigs he'd put on in years.
Zuheb Ahmed Khan Bio:
Zuheb Ahmed Khan is appreciated around the world as an international phenomenon of Indian Classical tabla. A member of the revered Ajrara Gharana of New Delhi, he, like his father and grandfather before him, has dedicated his life and soul to his instrument from the age of three. His consistently brilliant and exciting performances have not only established him as a national treasure in his own country, but also a touring artist in Denmark, Australia, China, South Korea, the Maldives, and the UK. His career has seen him perform alongside legends of Indian Classical music including Ustad Nishat Khan, Ustad Aashish Khan, and Ustad Ahmed Mohammad Hussain, as well as icons of jazz such as Jeff "Tain" Watts, Louis Hayes, Chris Potter and Yuka Honda.
Khan met Liam Narain DeTar of Yaatri in the summer of 2018 in New Delhi, when DeTar asked him for lessons in Indian Classical rhythm and tabla. The two quickly became good friends, spending hours together every week playing music together, attending concerts, writing, and learning from each other. With a mutual curiosity for how Indian Classical concepts could be applied to other styles of music, Khan's innate understanding of rhythm served as the initial creative spark from which Yaatri was born.
After five years of writing and recording together online with 7000 kilometers between them, Yaatri and Zuheb Ahmed Khan will come together in May 2023 for 12 performances around the UK.
Press Quotes:
"Beautiful melting pot" or "If you liked Hiatus Kaiyote, these guys might be up your street" – Sian Eleri, BBC Radio 1
"Yaatri presents and exciting direction for the future of music" Narc Magazine
"A song that I consider special" or "excellent" – John Osborne, Jazz FM (track of the week)
"Intoxicating" – Music Is My Sanctuary
"Exciting… envelope-pushing pedigree" – Jazzwise Magazine
"Mellifluous" or "Sonic delight"- Rolling Stone Magazine India
"Enthralling and dramatic" – Jazz Revelations
"Utterly delightful and unequivocally beautiful" – Twisted Soul
"Big fan of Yaatri's debut EP, and [Gold] is every bit as good." – Twisted Soul
"…an absolute masterclass in multicultural modern jazz" – 45 x RPM
"Beautiful and dynamic" – Tsubaki FM
"Soulful sophisticated pop with impressive instrumental interplay and delicately dextrous female vocals" – Trust The Doc
"…pretty much perfect." – BBC Music Introducing West Yorkshire (Alan Raw)
" sublime " – Em Pilbeam, BBC Introducing West Yorkshire
* See Access, Tickets & Finding Us for more about why there are three ticket prices, plus other useful info about coming to events at Ashburton Arts Centre.