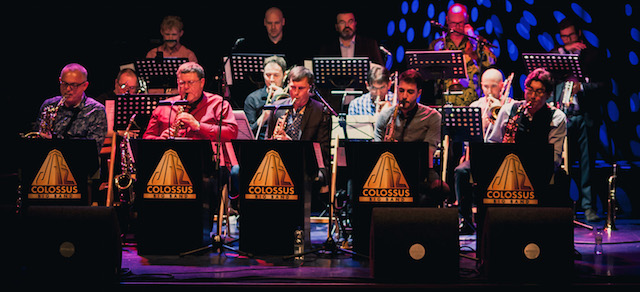 Another last-minute gig. This fantastic 20-piece big band was due to play in South Devon on their way home from Newquay but that was cancelled so they asked if they could come to Ashburton. They sound great, so why not‽ See for yourself here on Youtube or on the links below.
Saturday 21 April, 2018. 7.30pm
Ashburton Arts Centre, West St, Ashburton, T13 7DT
Admission £10 or £5 – you choose (whatever you can afford). Bring the family.
(When I was young I always wanted to play sax, but I'd never heard a live big band until I joined one aged 17. The sound blew me away. If there's anyone you'd like to inspire to play – or practise! – a musical instrument, bring them along.)
Tickets on the door, or in advance from WeGotTickets.com (+10% booking fee)
Jazz Colossus is a 20-piece big band, founded in 2015 by composer and bandleader Miles Hancock. They play a wide selection of styles including swing, latin, funk and contemporary jazz. The band consists of the finest professional players alongside a fantastic array of featured instrumentalists and guest singers, the latest being multi-award-winning jazz vocalist Liane Carroll. In addition to performing published music, the band also performs a variety of custom arrangements and unique pieces created especially for the band. In their latest project 'Made In Northampton', the band created an entire set of arrangements of songs written by unsigned bands and artists from the local Northampton area, culminating in a concert featuring all these local guest artists. A recording from the concert can be seen here: https://www.youtube.com/watch?v=_NrOjTI-gAk
Jazz Colossus has performed at a variety of venues, events and festivals across the UK and beyond. Last year they were invited to take part in the International Big Band Competition in Hoofddorp, The Netherlands, performing alongside top big bands from across Europe and beyond.
Additional links:
https://www.facebook.com/JazzColossus/
https://nenequirer.com/2017/10/09/jazz-colossus-its-a-band-only-bigger/
https://www.youtube.com/watch?v=bxMy2ZBCTCY
https://www.youtube.com/watch?v=BskJKEPK9SA