Methodist Church: to be auctioned on 19 July 2017, 2pm at the Methodist Church, Ashburton
Ashburton Arts: first AGM is on 20 July, 7.30pm at St Lawrence Chapel. All welcome.
Today, I am in the process of contacting everyone who has already offered financial support to buy the Methodist Church.
More donations/loans are very welcome
, as we don't know what price the auction may reach! Please email
andy@ashburtonarts.org.uk
if you'd like to be sent a form with all the details. The very basic details are below.
URGENT: We need your donations and loans in our account by Friday 14 July if possible.
We need to have full funds available on the auction date, 19 July to enable us to bid.
So, as soon as possible and before FRIDAY 14 July please transfer any donation or loan to: Cooperative Bank, sort code ##-##-## Account number ########.
[Edit: April 2018: that old bank account has now been superseded by a new one – donations and loans still welcome!: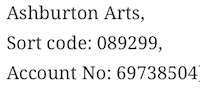 ]
If you prefer, you may give cash or cheque, payable to Ashburton Arts to Ashburton Post Office who will bank it for us OR post or deliver a cheque (payable to Ashburton Arts) to Ashburton Arts, c/o Francis Parffrey, Hillcrest, Bowden Hill, Ashburton, Devon, TQ13 7EA.
If we're not successful in the auction, all loans will be returned. If you make a donation, please say whether you'd like it returned, or used instead for a future arts project in Ashburton.
Why is the account in my name and not 'Ashburton Arts'?
Opening a bank account for Ashburton Arts was held up while we submitted our application to the Charity Commission, and then for Ashburton Arts Ltd to be registered. Then the Coop Bank required a bit of paper to be signed by each of the 8 directors, and one is away in Norway. So, at a meeting on Monday 3 July 2017, six of the directors agreed that we would use an existing account of mine, which isn't being used for anything else, as a temporary place to receive donations and loans, so that we're in a position to bid at the auction on 19 July. On 5 July I signed a 'Trust Deed' saying the benefit in this account is held for Ashburton Arts Limited; this was overseen by 
Francis Parffrey
  who's also one of the Ashburton Arts directors and is a lawyer regulated by 
clc-uk.org
.
Andy Williamson
7 July, 2017