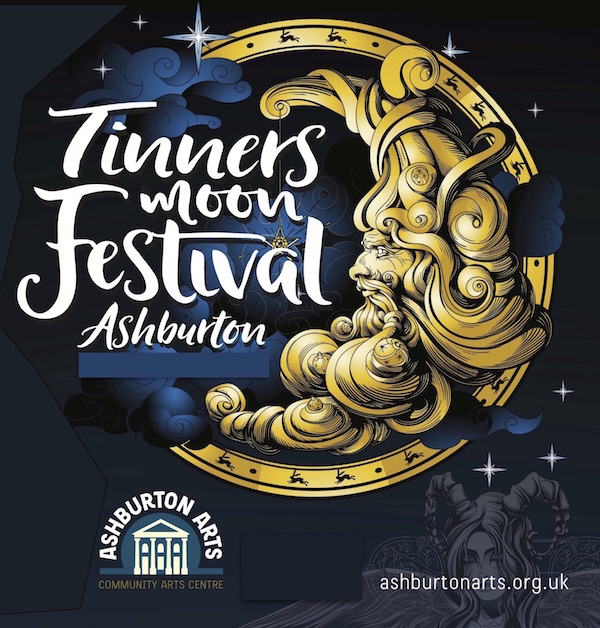 Date/Time
Monday 17 May 2021 - Monday 31 May 2021
All Day
Categories Performances, shows, and events
In anticipation of being allowed to reopen to audiences inside the Arts Centre on 17 May*, we're planning the Tinners Moon Festival 2021, with the programme below. Tickets for all of these events available NOW  from wegottickets.com/ashburtonarts. Click on the name of each event for more information, pictures, links, etc.
This festival has turned out to be a celebration of the song! This is truly a feast of wonderful singers, with some other treats too. There's music, magic, dance, words and even something for the garden!
Andy Williamson
Arts Director, Ashburton Arts Centre
Mon 17 May
Opening Celebration with Sam Walker

6pm

Free

Gather in and around the Forecourt for some live music, and a chance to see how the Arts Centre has changed.

Mon 17 May
Community Cabaret – Open Mic

7.30pm

£5/£3/£0

Hosted by Sam Walker.
If you're interested in performing, please email boxoffice@ashburtonarts.org.uk

Tues 18 May
Annika Skoogh & Ashburton Arts All Stars

7.30pm

£12/£9/£5

Fabulous singer with some fine local musicians: jazz, swing, soul and more. Annika Skoogh (vocals), Andy Williamson (sax), Steve Dow (guitar), Jim Rintoul (bass), Martin Jenkins (keys), Josh Rose (drums)

Wed 19 May
Tom Adams

7.30pm

£13/£10/£6

An extraordinary singer and songwriter. As special as Nick Drake or James Taylor, while completely different and original. This promises to be a very special night. Video here

Thu 20 May
Talk: Guy Shrubsole: Who Owns England?

7.30pm

£10/£8/£5

Fascinating and entertaining. Guy wrote the book about who owns the land in this country – including Dartmoor, which is its own intriguing story!

Fri 21 May
These Hills Are Ours

5pm

£5/£3/£0 (by donation)

Daniel Bye and Boff Whalley (Chumbawumba) are running from the North to the South Devon coasts, stopping to sing along the way.

Fri 21 May
Moments of Pleasure Trio (Kate Bush Tribute)

7.30pm

£13/£10/£6

The music of Kate Bush performed accurately and affectionately  capturing the tone and emotion of Kate's songs perfectly.

Sat 22 May
Tom Ollendorff Trio

7.30pm

£13/£10/£6

Tom has fast built a reputation as one of the most exciting jazz guitarists in the UK. Here with Marc Michel on drums and Conor Chaplin on Bass. Watch them here.

Sun 23 May
Sam Fearon / Safiya Joscelyne & Craig Milverton / Maisie Waterhouse

7.30pm

£11/£8/£5

Some rising stars in the making from Ashburton. We've got what it takes to rival Liverpool, Manchester or Bristol with our very own great music scene!

Mon 24 May
Magical Engagements with Brian Rappert

7.30pm

£10/£8/£5

Our resident professor/magician uses magic to explore themes of connection and estrangement. Combines magical effects with philosophical enquiry.

Tue 25 May
Sarah McQuaid

7.30pm

£13/£10/£6

Sarah McQuaid is a one-woman powerhouse who defies categorisation because there simply isn't anyone else out there quite like her. Watch her here.

Wed 26 May
Wren: Alice Smith / Angus Balbernie (Dance)

7.30pm

£10/£8/£5

Dance and film: Wren takes from the old stories and songs of the "cutty wren", and from the poem "Half Hanged Mary" by Margaret Atwood.

Thu 27 May
Ashburton Community Folk Orchestra

11am

£5/£3/£0 (by donation)

The Ashburton Community Folk Orchestra, led by David Faulkner, is an open group and all musicians are welcome. He writes, "We will be celebrating spring and sharing our joy in making music & playing together. We play traditional music from Dartmoor and beyond." The group was founded in January 2020 and meets on Thursday mornings at Ashburton Arts Centre.

Thu 27 May
holding hands octet / FOWL

7.30pm

£13/£10/£6

Chris Dowding (trumpet), Ralph Clarkson (trombone), Dee Byrne (alto sax), Rob Milne (tenor sax & bass clarinet), Ben Higham (tuba), Morris Masuda (samples, electronics & guitar), Martin Pyne (vibraphone), Azzy King (drums)
Fowl: Hugh Nankivell and Graham Browning, with songs from Humankindweed
Fri 28 May
Toby Strong talks about and shows some of his films

7.30pm

tbc

The Platform Cinema group presents this wildlife filmmaker, famous for his work with David Attenborough and the recent BBC Alaska series.

Fri 28 May
James Kirby
(Outdoors in our beautiful field)


7.30pm

£13/£10/£6

James has been touring worldwide for 15 years, captivating audiences of all ages with his mellow voice. Have a listen here.

Sat 29 May
ADGA Plant Sale

9am-11am

Free

Get there early for the best blooms and other locally grown plants.

Sat 29 May
Lyric Trio: Bach Purcell


12noon

£10/£8/£5

Patricia Calnan (Violin), George Robertson (Viola), Vicky Evans (Cello). Some more of London's top classical musicians who've discovered that the SW is the place to be.

Sat 29 May
Attila the Stockbroker & TV Smith
(Outdoors in our beautiful field)


7.30pm

£15/£11/£8

Punk poet extraordinaire Attila on his 40th anniversary tour, and from his punk beginnings with 'The Adverts' TV Smith is a superb singer/songwriter.
Video of Attila the Stockbroker
Sun 30 May
The Riviera Ramblers


7.30pm

£9/£6/£3

An excellent sextet playing the sounds of the Swing era of the 1930s and 40s with shades of manouche/gypsy jazz. Great foot-tapping fun music that anyone can enjoy.

Sun 30 May
Kitty Macfarlane
(Outdoors in our beautiful field)


7.30pm

£13/£10/£6

A voice that makes you stop and listen. Thought-provoking and evocative compositions with wonderfully crafted soundscapes. One of the Guardian's Best Folk Albums of 2018. Video here.

Mon 31 May (Bank Holiday)
Not Only But Also The Blues: Vince Lee, Russell Sinclair, Black Cat Bone

7.30pm

£13/£10/£6

Vince Lee is another extraordinary performer – world-class blues guitar and vocals like nobody else! Video here. Russell Sinclair has been following Vince's trail, and is now carving his own niche. With the monthly residents, Black Cat Bone featuring Bill Birks, Emily Veise-Smith, and Mary Caffrey, it's going to be a great night to see out this festival.

* The UK government's 'roadmap' sets out that 'Step 3' will happen 'not earlier' than Monday 17 May, when entertainment venues like the Arts Centre will be able to open again, as long as risk mitigation measures against the transmission of the coronavirus are put in place. As long as this date doesn't change, the programme above will go ahead. If it does, or if new conditions are imposed, we will respond as best we can, taking everything into account. If any event is postponed to a new date, then all tickets will remain valid. If the new date isn't convenient, or if an event is cancelled, then ticketholders will be offered a refund of the value of the ticket by WeGotTickets (nb this doesn't include the 10% booking fee – though if this is important to anyone, please contact boxoffice@ashburtonarts.org.uk, and we will cover this cost).
Pandemic policies. This information will be updated as things change.
December 2021:Omicron Update
Everyone must take a Lateral Flow test before coming to the Arts Centre, and if this is positive, don't come. These tests aim to pick up anyone who is infectious at the moment of testing, so please take the test as late as possible on the same day before coming to the Arts Centre.
A refund or transfer of your ticket to another event can be arranged, if you let us know before the start of the event, by emailing boxoffice@ashburtonarts.org.uk.
The windows and doors of the venue will be open, allowing fresh air to be constantly moving through. This may mean that the ambient temperature is similar to outdoors, and audience members should dress accordingly. From October, when necessary, we are switching on the electric heaters in the main hall, even though the windows are open. This makes the central part of the hall warmer. The seats at the sides under the balcony don't get as much benefit from this.
Face masks must be worn whenever inside the building, except – briefly – when eating or drinking.
Anyone who sits in the balcony MUST wear a face mask – with NO exceptions (not even those who are exempt). This is: (a) to provide a place for people who want to be as distanced as possible from others, and with anyone nearby wearing a mask – the seats in the balcony are naturally separated; and (b) as virus particles when airborne are generally heavier than air, this helps to mitigate the risk of transmission from people sitting in the balcony to audience members below.
Hand sanitiser will be available as well as soap and water in the toilets; please use these frequently.
Bar service at the Arts Centre is carried out by volunteers. If enough are available, they will take orders at your seat, and bring drinks to you. Otherwise, you can order drinks at the bar, one person at each end of the bar at a time, and take them immediately to your seat.
All members of the audience must wear a face mask while indoors, except if medically exempt, or when eating or drinking. Our experience is that this is one of the things most important for making some (perhaps more vulnerable) members of the audience feel safe to attend concerts. Whatever your opinion of the efficacy of face masks in preventing the spread of the virus, please help to reassure others, and showing that you're thinking of them, by complying with this.
There are posters inside the building showing the QR code that's connected to the NHS Track and Trace app – please use this. We will also keep a record of all ticket buyers for the required period, and pass this on to the NHS or Devon Public Health if requested.